LAKESIDE HEALTHCARE

  Lakeside Healthcare Group

Lakeside Healthcare is a new type of NHS general practice which builds upon and celebrates all that is great about traditional primary care services. We are local surgeries run by doctors, nurses and associated staff who know their patients and care deeply about the quality of health provided in their communities. We build upon this by investing in people, facilities and equipment to provide services that are more accessible, more convenient and more diverse within the local community. We work for our patients.​   
Opening Hours
The surgery times shown below should only be used as a guideline as to the Practice's planned consultation times. Consultations are by appointment only. Please make a separate appointment for each member of the family that requires attention. If you are unable to keep an appointment please let us know, even at short notice, as an urgent case may then be fitted in. 
| | |
| --- | --- |
| Day | Times |
| Monday | 8.00am - 6.30pm |
| Tuesday | 8.00am - 6.30pm |
| Wednesday | 8.00am - 6.30pm  |
| Thursday | 8.00am - 6.30pm  |
| Friday | 8.00am - 6.30pm |
| Saturday | 8.00am - 11.00am  (first 2 of each month) |
| Sunday | CLOSED |
Dispensary Opening Times
Monday - Friday
08.30am - 12.30pm
13.30pm - 18.00pm
Please note: The Dispensary is CLOSED during our Saturday clinics.
Please ensure you allow at least 2 working days when ordering repeat medication.
Extended Hours
The Practice currently offers some extended hours, generally on the first 2 Saturdays per month to allow for the booking of routine appointments. 
 Please note that during these periods only pre-booked routine appointments are available and our phone lines are closed for queries.
If you need to urgently see a GP on a Saturday you should call NHS 111
Out of Hours
If you have a life threatening condition you should call 999.
If you require urgent medical attention that cannot safely wait till the next working day you should call NHS 111
GP Hub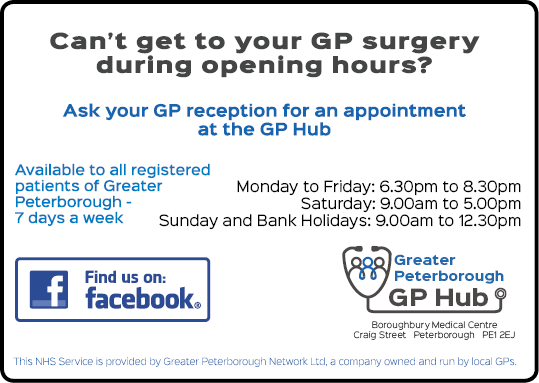 Bank Holidays & Planned Closures